I'M AN ORIGINAL CATCHPHRASE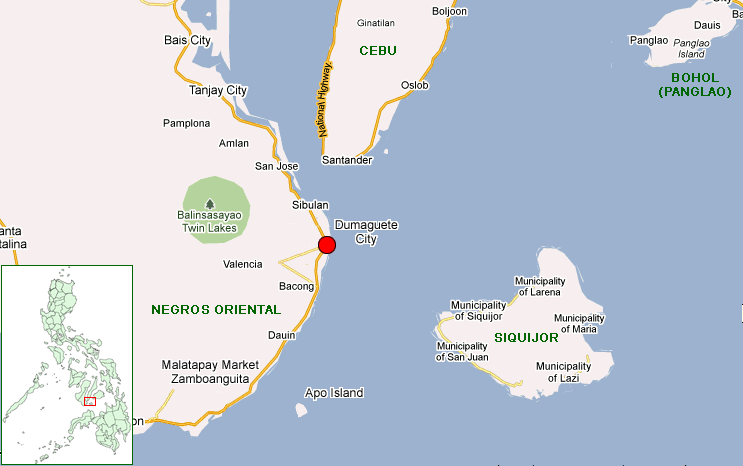 Our original Dumaguete tour and the best way to experience Dumaguete adventures like no other. Get ready to explore and experience a stunning white sand bar that can only be seen during low tide. It is only then the beautiful white sands and starfish show up. Appreciate the beauty of the unspoiled beach and the pristine blue-green water in Apo Island and swim with friendly sea turtles. Cool off in natural freshwater of Forest Camp and Pulang Bato Falls and check out the beauty of Dumaguete City from Tierra Alta. Perfect for travelers' first time visiting the capital of Negros Oriental.
​
We spend 5 days exploring Dumaguete City and nearby towns. We visit Apo Island, Manjuyod White Sandbar, and Valencia Highlands.
Frequently Asked Questions About This Trip
Are flights included in the tour price?
---
Flights to/from the destination your trip are not included in the tour package and must be purchased separately.
---
What kind of accommodation is included in the tour? Are upgrades available?
---
Accommodation is shared bedroom and shared bath depending on the number of travelers on the scheduled date. Accommodation upgrades are available and we offer a variety of accommodation from hostels, bed and breakfast and hotels.
---
How much is a pre-night's accommodation?
---
A pre night's accommodation for shared bedroom is P600 or a private twin or double room for P1900. If you would like to arrange a pre-night accommodation please email dumagetmetropictours@gmail.com.
---
The Ultimate 5 Day Dumaguete Itinerary
---
Where does the trip starts and finish? The trip starts and finish in Dumaguete City airport. Welcome to Dumaguete City! Day 1: Your memorable, Dumaguete adventure begins the very moment you arrive at Dumaguete City Airport. You can simply land, pick up your luggage, and you'll be headed directly to your accommodation and your exciting, first night in Negros Island. The day is kept free of activities so you can arrive in your own time and relax before catching up with the rest of the group in the evening over dinner and a few drinks. Apo Island and Swimming with The Sea Turtles Day 2: Your whole day is dedicated to experiencing a beautiful and exhilarating trip to Apo Island. Apo Island is known around the world as one of the best examples of a community-managed marine reserve. The waters around the island are home to 650 species of fish and 400 species of corals. APO Island is one of the many islands in the Philippines where you can spot Sea Turtles in the shallow water and swim with them. Also while snorkeling, you will see the beauty of the underwater world with its fantastic coral garden. Lunch at Apo Island - Full day at your own leisure then boat journey back to your accommodation (budget/comfort) in Dumaguete for a second overnight stay. Highlights: Swimming with The Turtles, Snorkeling, Apo Island Experience Manjuyod Sandbar and Dolphin Watching Day 3: Light Breakfast in Local Market for some eat like a local experience. Next you will have a quick glimpse to some of the tourist spots in north of Negros Oriental for quick photo ops. Then, transfer to the port of Bais for the boat journey to Manjuyod White Sandbar. Your whole day is dedicated to the marvels of the Manjuyod White Sand Bar, dubbed as Maldives of the Philippines. A seven kilometer strip of White Sand beach where you can relax on the boat while you enjoy a cocktail overlooking the pristine blue green waters- Lunch on the boat.The journey continues as we take tour of Dolphin watching in Tanon Straight. At day's end, you will return to your preferred accommodation (budget/comfort). Highlights: Manjuyod White Sandbar Experience and Dolphin Watching Valencia Highlands Day 4: Starting your trip off the right way, an option to visit to Valencia's famous spring water - The Forest Camp Nature Resort, a valley under a canopy of tropical, indigenous forest trees - Lunch at Forest Camp. The journey then continues as we head our way to Red Rock Waterfall and stop at Tierra Alta, amid the lush vegetation, lies a mystical beauty that nestles on the slopes of Palinpinon in Valencia, Negros Oriental. It is a beauty engulfed with breath-taking sights, overlooking Dumaguete City. Of particular interest is Red Rock Hot Spring, a great way to relax in the cool upland temperature of Valencia. A natural source of spring water averaging from 38 degrees Celsius. Be sure to pack your swimsuit, so you can take a relaxing dip in the Red Rock's soothing, geothermal waters, before heading to your hotel. Overnight stay in your preferred accommodation (budget/comfort). Highlights: Experience Valencia's spring water, Red Rock Sulfur Vents, and a stunning view of the city Check Out Day 5: It seems as if your journey to in Dumaguete only began a moment ago, but now it is time to head back home. Depending on your flight's time, you may be able to squeeze in a last day in Dumaguete in the event your flight arrives late or on to a new adventure. Ready to get to Dumaguete? Check out our Departure dates and check off your travel bucket list!
---
Terms and Conditions
---
A Php1500 deposit to secure your spot today

Full Payment 1 month before travel date
Trip cancellation made 30 days before travel date, you will receive a full refund less the non-refundable deposit.
Trip cancellation made less than 30 days - no refund.
All trips are subject to Weather and Sea Conditions
No Tour on Good Friday
This is a join in group tour with a maximum capacity of 10. Solo, couple and group travelers can join but please note that this tour needs a minimum of 4 pax to run with a new based rate.
All published prices and inclusions are subject to change without prior notice
---
What is Included?
---
DumaGetMe Travel Crew

Private Transfers
Chartered Boat Trips in Manjuyod Sandbar and Apo Island
Entrance Fees and Environmental Fees
Bottled Water
Snorkeling Gears in Apo Island
1 Breakfast
3 Lunch
1 Dinner

---
---
If you have any more questions please visit our

customer help center

for more information about the trip and policies.